KHS School Songs


HISTORY
In 1923, KHS students were asked to submit names for a School Mascot. About 35 names were suggested, then the Student Advisory Board narrowed the choices to four. The final vote by all students was:
Bearcats, 206
Buffaloes, 138
Wolverines, 92
Kubs, 51
So Kearney High became the "Home of the Bearcats".
In 1937, Elizabeth Cummings, a former KHS Choral Director, wrote the words to a school song with the help of two senior students, Pauline (Freeman) Goodwin and Janet (Coussins) Coleman. Music for the song was composed by senior Harold Keiss. "Spirit of KHS" was adopted as the official school song in 1937.
You have to remember the tune, but here are the lyrics:
SPIRIT OF KHS
Oh, Kearney High, to you we'll always be true,
You are the best school in the land.
Our colors waving high, bright golden and blue,
For your ideals we'll always stand.
And as we onward go to fame and renown,
Our loyalty will never die.
To you we sing
Our homage bring
Oh, hail to you, oh Kearney High.


(YELL:)
With a K, with an E, with an A-R-N-E-Y,
With an H, with an I, with an H-I-G-H, High.

(REPEAT SONG)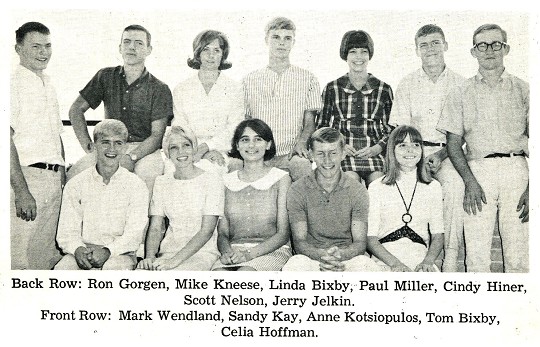 KHS STUDENT ADVISORY BOARD FOR 1966-1967 SCHOOL YEAR

In 1966, the Student Advisory Board published a "CAT-a-logue" for all students to "better acquaint you with the school traditions, classes, clubs, graduation, and other schools affairs."

KHS 1966-1967 SAB CAT-a-logue
userfiles/File/KHS1967_CAT-a-logue.pdf


This booklet also listed another school song; do you remember how to sing it?

LOYALTY

We're loyal to you, Kearney High,
We're golden and blue, Kearney High,
We'll back you to stand,
You're the best school in the land,
For we know you will win, Kearney High.
Rah, rah, rah,
Strike out the ball, Kearney High,
We're backing you all, Kearney High,
Our team is our famed protector,
On boys, for we expect a victory from you, Kearney High.
Taken from the Class of 1967 website, www.khs1967.org